Urban Sciences Building, Newcastle University
A living laboratory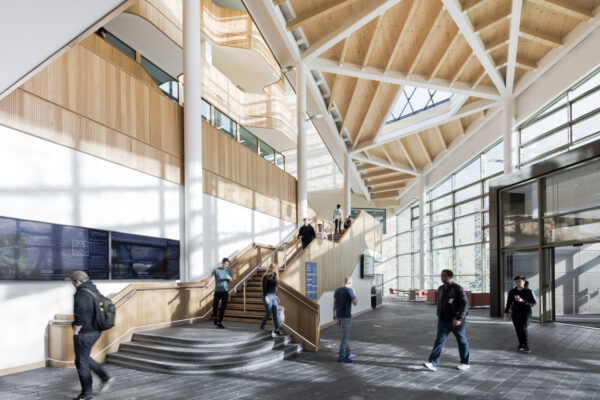 Sustainably built to inspire world-leading interdisciplinary research and innovation in urban science.
The Urban Sciences Building is located on Newcastle Helix in the heart of the city. Trialing new energy systems, novel materials and smart engineering, it is a key part of the Newcastle Helix vision to embody urban innovation – a 'living laboratory' underpinning research to make urban centres more sustainable for future generations.
As well as being the headquarters for the Centre for Energy Systems Integration (CESI) USB is also home to the University's School of Computing and its 1,395 staff and students.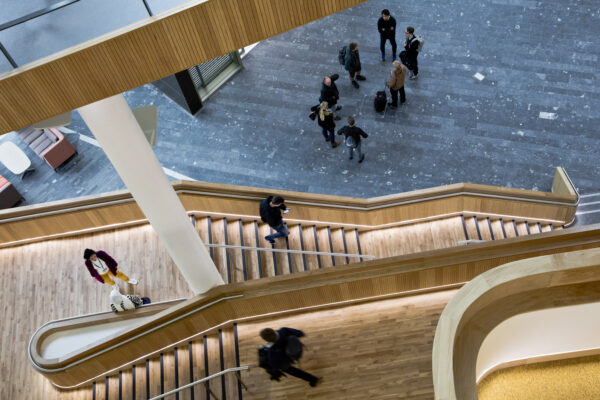 When we were developing the brief for the building, the discipline of urban sciences was new to the University. The users didn't know exactly what they needed and spatial prototypes didn't exist. We put collaboration at the centre of things, literally and figuratively.
The ground floor is porous and open, bringing people, technology and data together in the forum space, café and 'showcase labs'. These areas encourage engagement of academics and experts with the city and vice versa. A multitude of spaces shoot off from the main stair and around the lower levels, creating opportunities for chance encounters among the USB's varied users.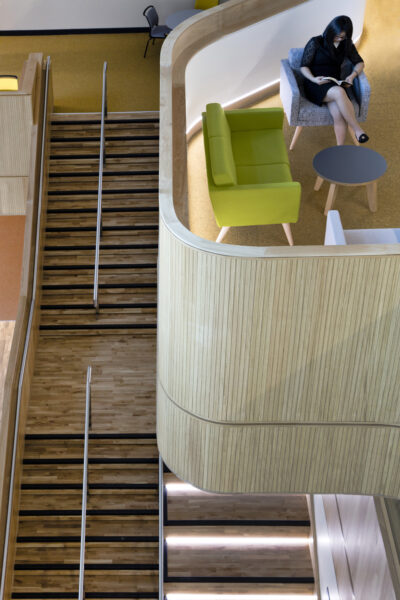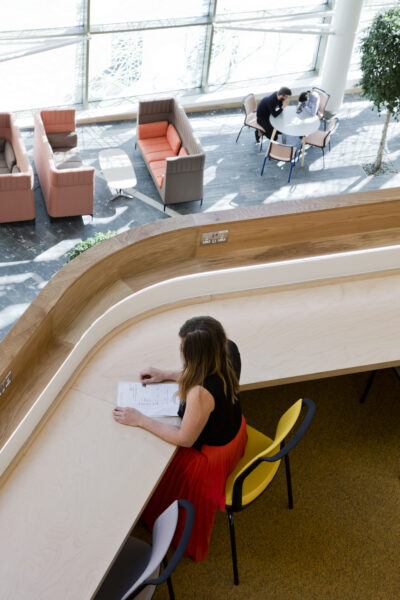 The USB houses the Urban Observatory, a live project that aims to understand cities through large-scale monitoring and measuring of environmental variables within the building itself, on the Newcastle Helix site and across the city. By using a network of sensors embedded in the building and throughout Newcastle, the Urban Observatory is able to capture the complex interrelations and interactions between buildings, infrastructure, people and the environment.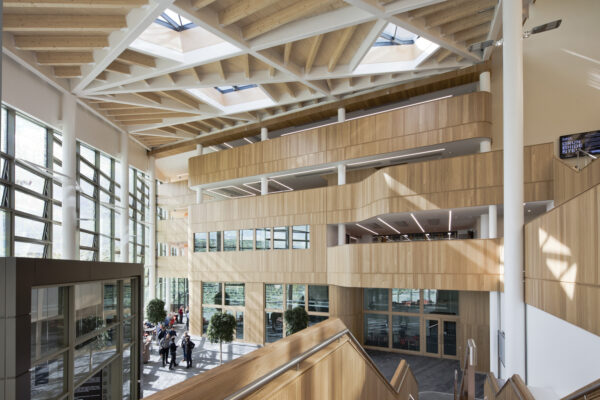 Together with engineers BuroHappold, we developed a bespoke sustainability framework for the building designed specifically to drive sustainability beyond BREEAM with an auditable approach to developing targets for design, construction and occupation.
The building's sustainable design features include a bio-dome on the building roof that uses waste heat, water and carbon dioxide produced by the labs below to grow food for the café.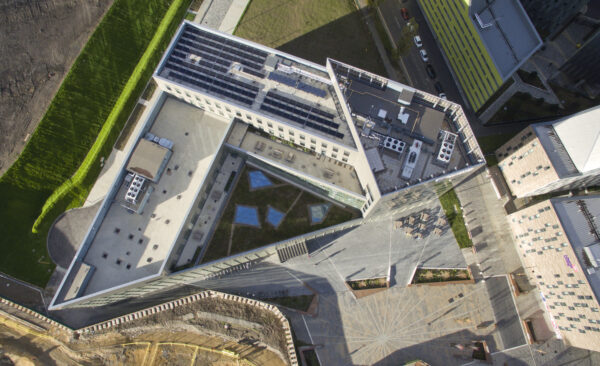 Art has been incorporated into the building as a way of revealing the invisibility of modern computing and technology. It's used to highlight the importance of the work going on inside the USB and references the site's history. The artwork also serves a functional purpose by helping to break down the mass of the building while providing solar shading.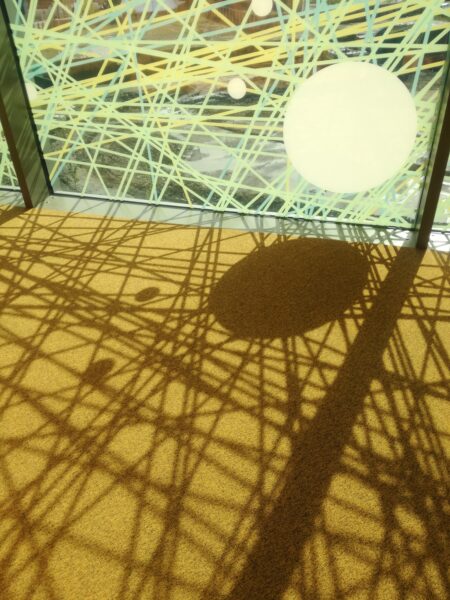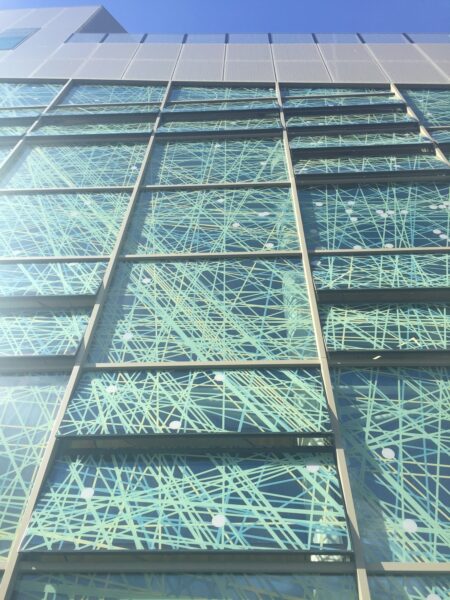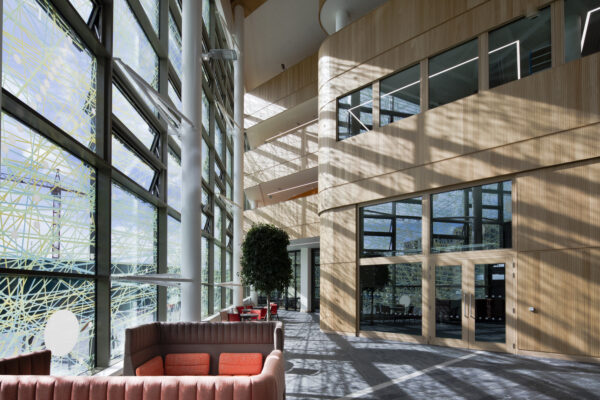 The most impressive aspect of Hawkins\Brown's involvement was their willingness to engage with the subject matter of my school, and the degree to which they sought to understand the dynamics of our academic community.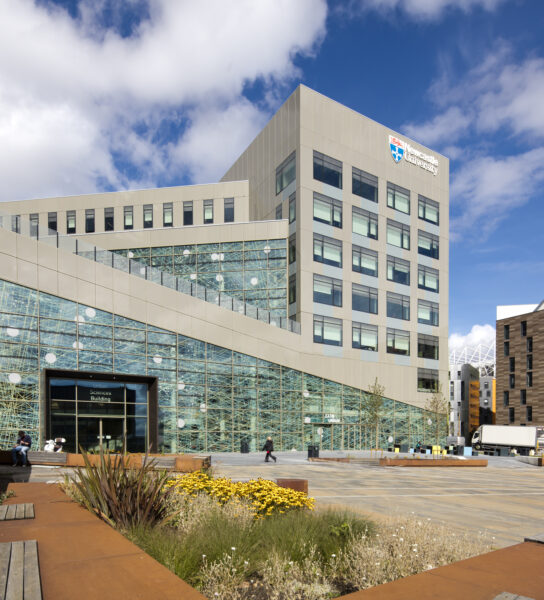 Project name: Urban Sciences Building, Newcastle University
Location: Newcastle, UK
Service: Design for Manufacture & Assembly
Value: £50M – £100M
Scope: Architecture
Clients: Newcastle University
Status: Live
Completion date: 2017
Structural engineers: Buro Happold
Environmental/M&E engineers: Buro Happold
Acoustic engineers: Buro Happold
Cost consultant: Turner and Townsend
Project management: Turner and Townsend
Landscape architect: BD Landscape Architects
Lighting designer: Buro Happold
CIBSE Awards 2019 Project of the Year - Public Use - Winner
Lord Mayor's Design Awards 2018 Sustainability - Winner
Constructing Excellence Awards 2018 Building of the Year, Integration & Collaborative Working, Sustainable Building, Digital Construction, Off Site Manufacturing - Winner
RICS North East Awards 2018 Design Through Innovation - Winner
Education Estates Awards 2018 Innovation in Teaching and Learning - Winner
Green Gown Awards 2018 Campus of the Future - Winner