Thames Tideway
A different side of London life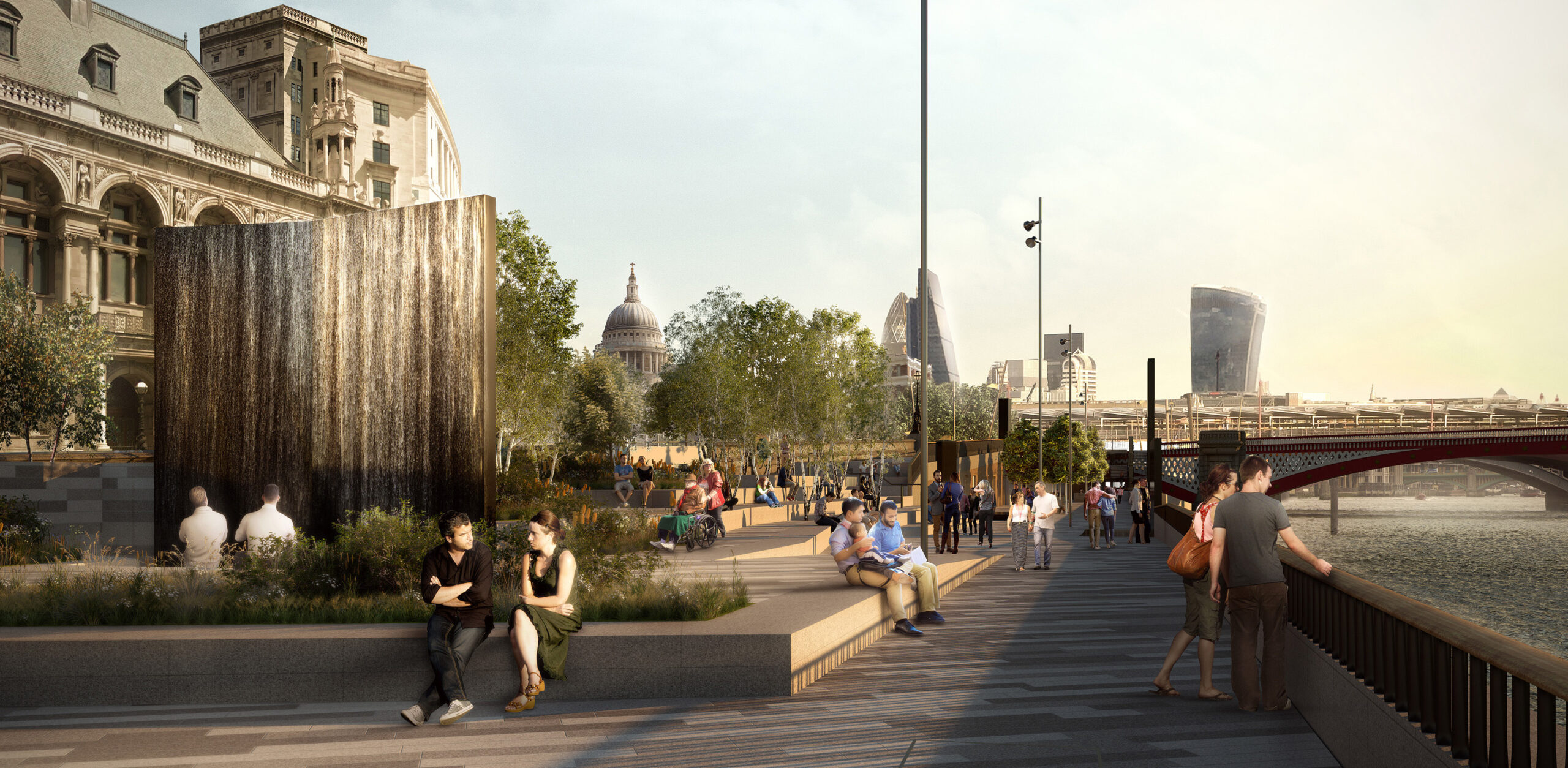 This mammoth investment in London's wastewater infrastructure offers an exciting opportunity to enhance the appearance, identity and experience of the city, through the creation of an extraordinary series of new public spaces along the River Thames.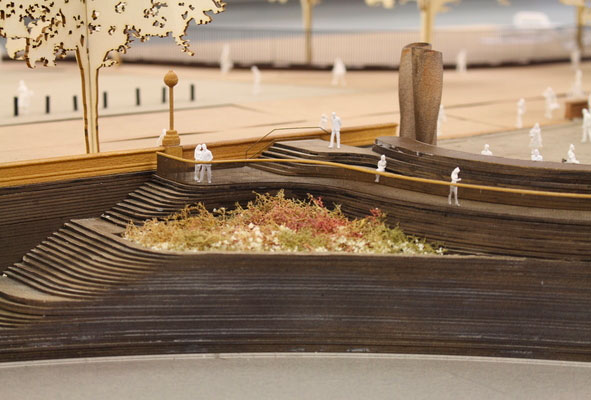 Not only will these monumental civil engineering works improve the water quality of the river and London's resilience to population growth and flood risk, but the parks and places created overhead will also give everyone a whole new experience of the water's edge, and entirely new views to and from the foreshore. We're excited to be leading the architecture and landscape design for eight central London sites.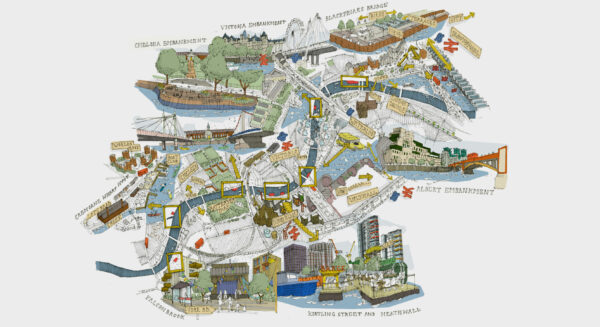 The soft landscaping of the green terraced area of Blackfriars Bridge Foreshore is inspired by the ecology of the lost Fleet River, which originates on Hampstead Heath and flows through the city to the Thames at Blackfriars. Large-scale sculptures by the Glasgow-based artist Nathan Coley engage and direct people across 4,000m2 of new public space.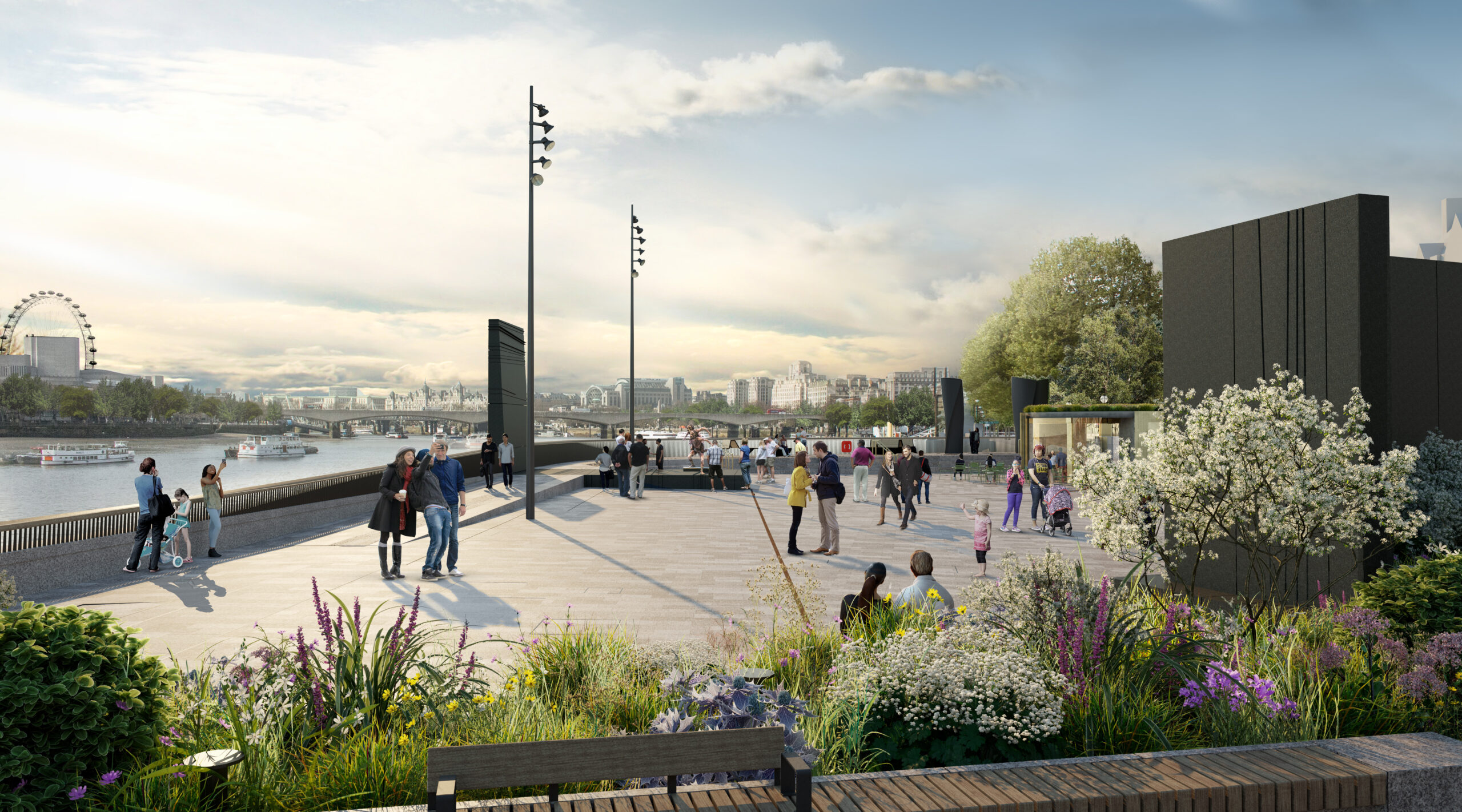 Victoria Embankment is at the heart of Bazalgette's original Embankment, characterised by the rhythm of London plane trees, Sturgeon lamp standards and sphinx benches. A series of kiosks and canopies frame the entrance onto terraces that rise to a viewing terrace, before stepping down towards the lapping waves of the river and an area of lower public realm that brings people closer to the water. Bazalgette's pioneering designs for the tunnels are embedded into the landscape and structures throughout.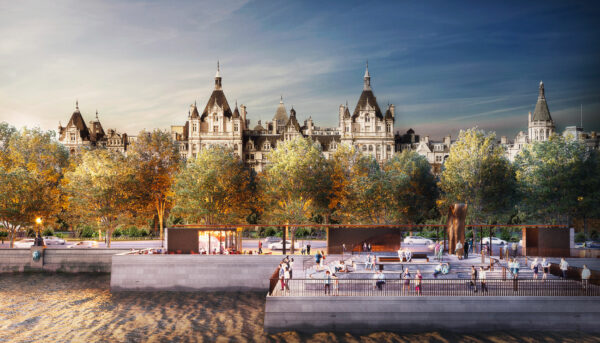 The design for Albert Embankment foreshore enhances the sensitive riverside setting to create two new public spaces in front of the emblematic MI6 building at Vauxhall Cross. The northern space extends the riverside path and takes inspiration from the urban beach setting, while a circular platform – the 'Isle of Effra' – is framed by terraces of intertidal planting, providing a further spectacular viewing point out in the river.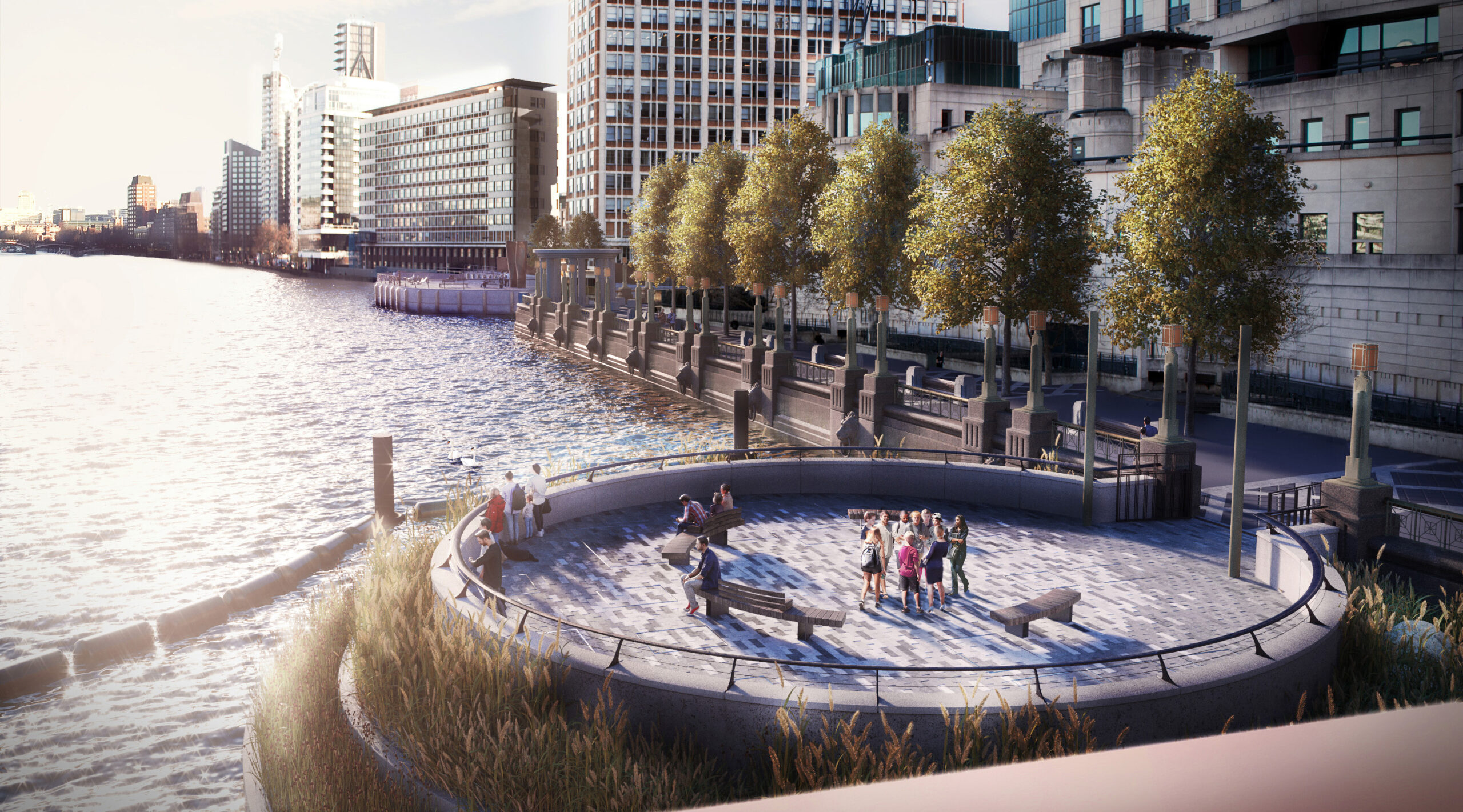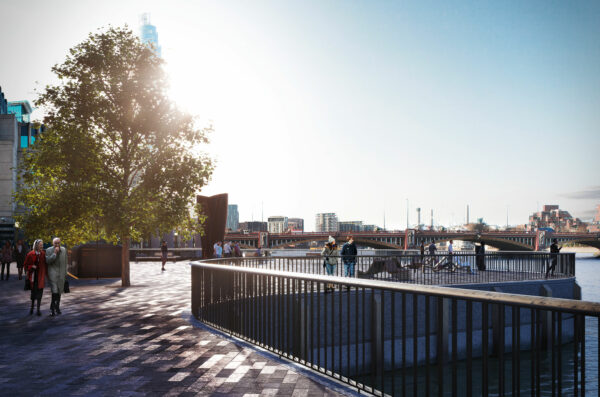 Heathwall sits on the foreshore in front of an existing pumping station, in the shadow of Battersea Power Station and significant development within the Nine Elms area. It creates a new link in the Thames Path and a large public square for flexible use such as hosting markets and art displays for the growing local community.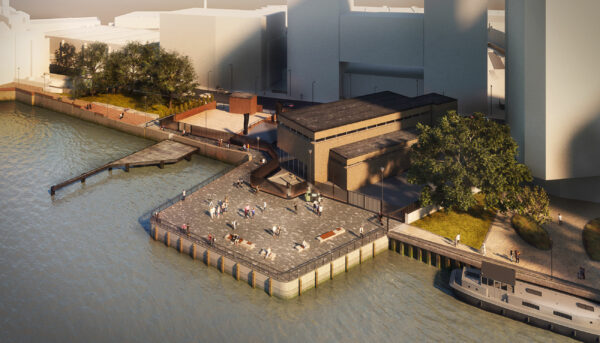 Our design for Chelsea Embankment responds to the restorative character of the local area, home to the Royal Hospital Chelsea and the Physic Garden, and one of the greenest areas of the city. The organic design uses clay bricks (referencing Bazalgette's original tunnels) and intertidal planting and features a lower walkway that brings the public closer to the water's edge and allows a more intimate experience of the river.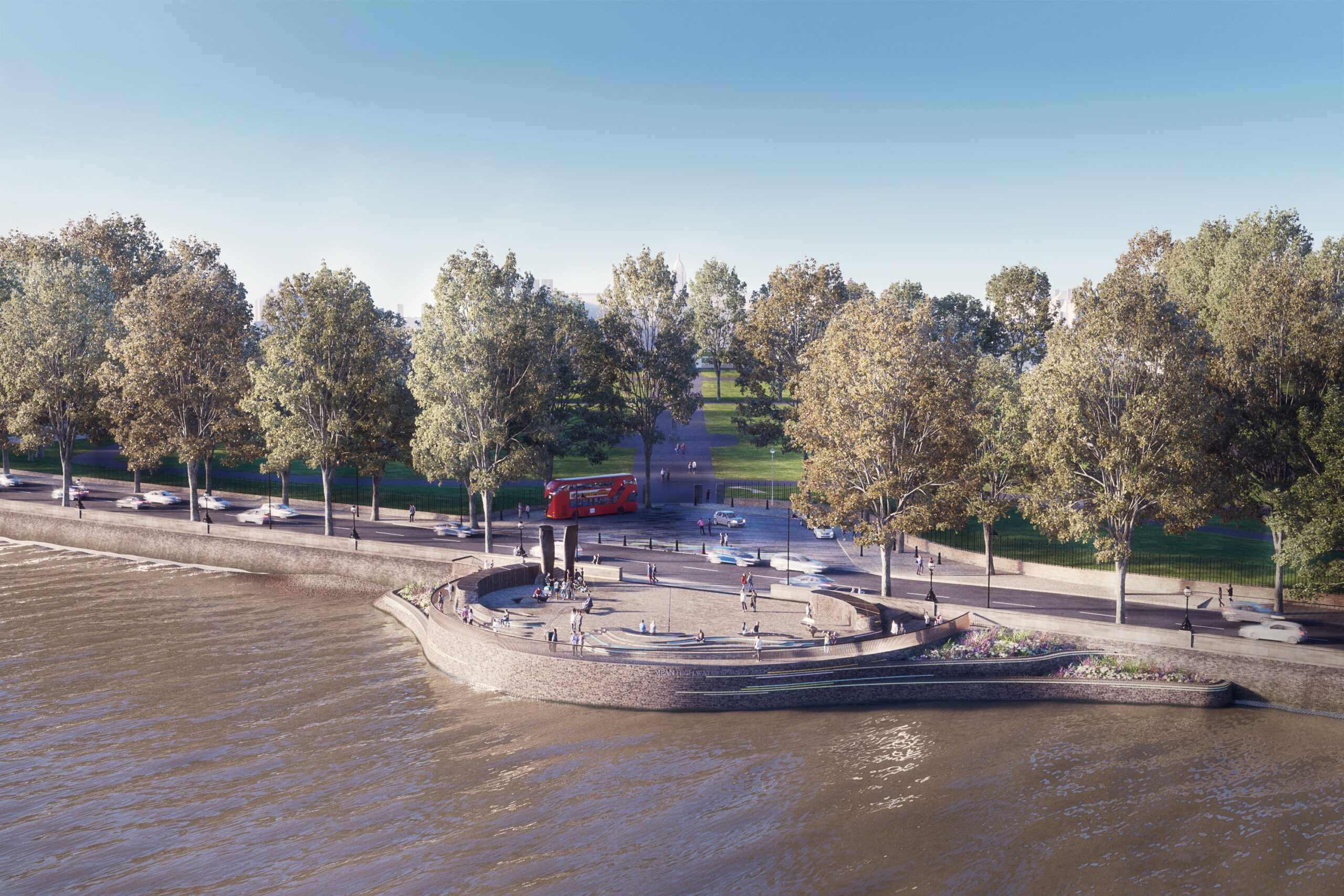 Project name: Thames Tideway
Location: London, UK
Scope: Architecture, Urban design
Clients: Tideway
Status: Live
Main contractor (central section): Ferrovial, Laing O'Rourke
Lead designer: AECOM
Architect and landscape lead: Hawkins\Brown
Landscape architect: Gillespies
Lighting designer: Studio Dekka
Video: Squint Opera
World Architecture Festival Awards 2018 Infrastructure - Future Project - Highly commended