Net Zero Carbon Hotel
Flexibly green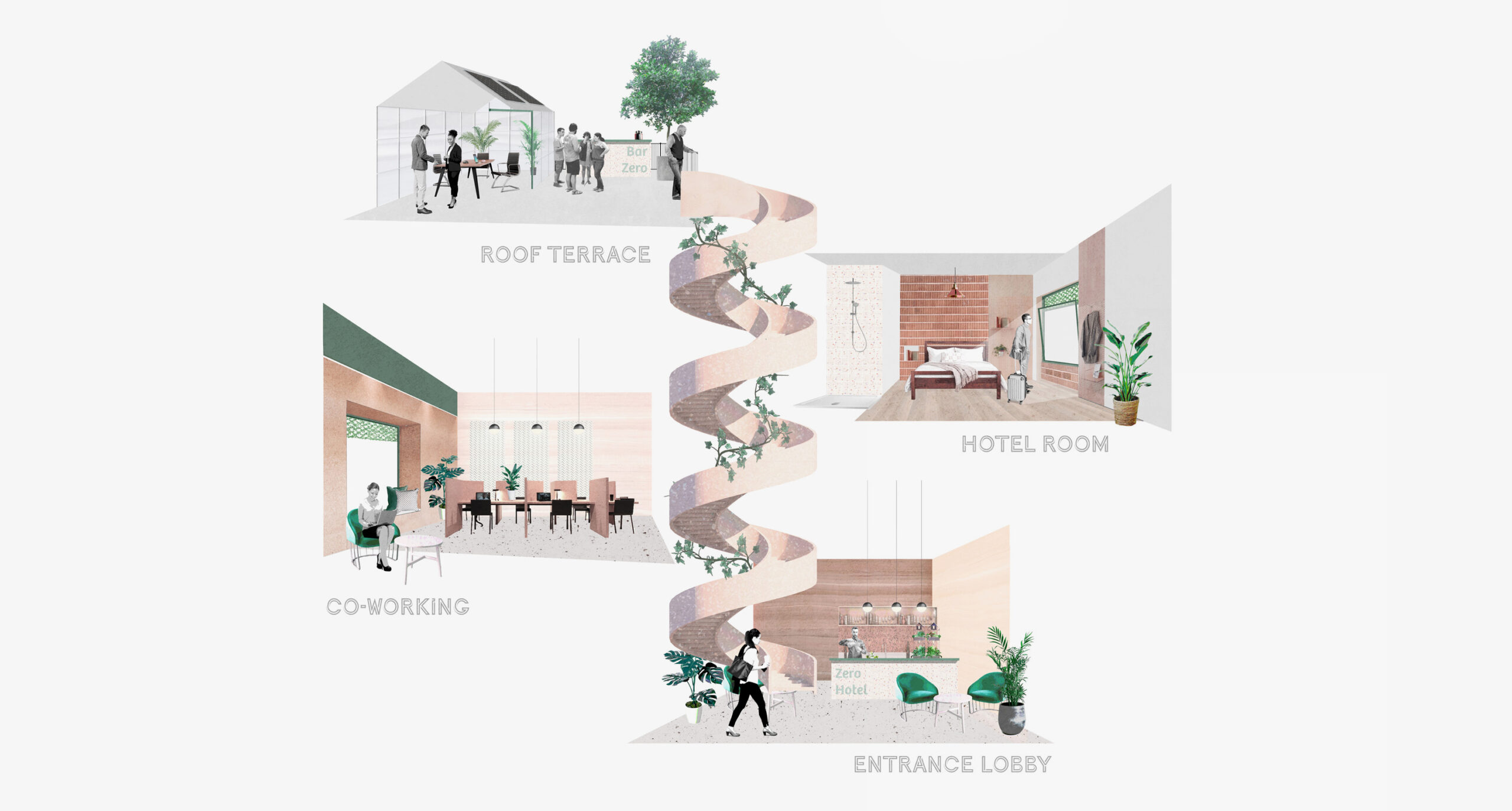 Commissioned by Castleforge and in collaboration with Arup, we carried out comparative whole life carbon analyses using speculative typologies to design a concept for the UK's first net zero hotel and co-working space, which is flexible enough to be rolled out internationally.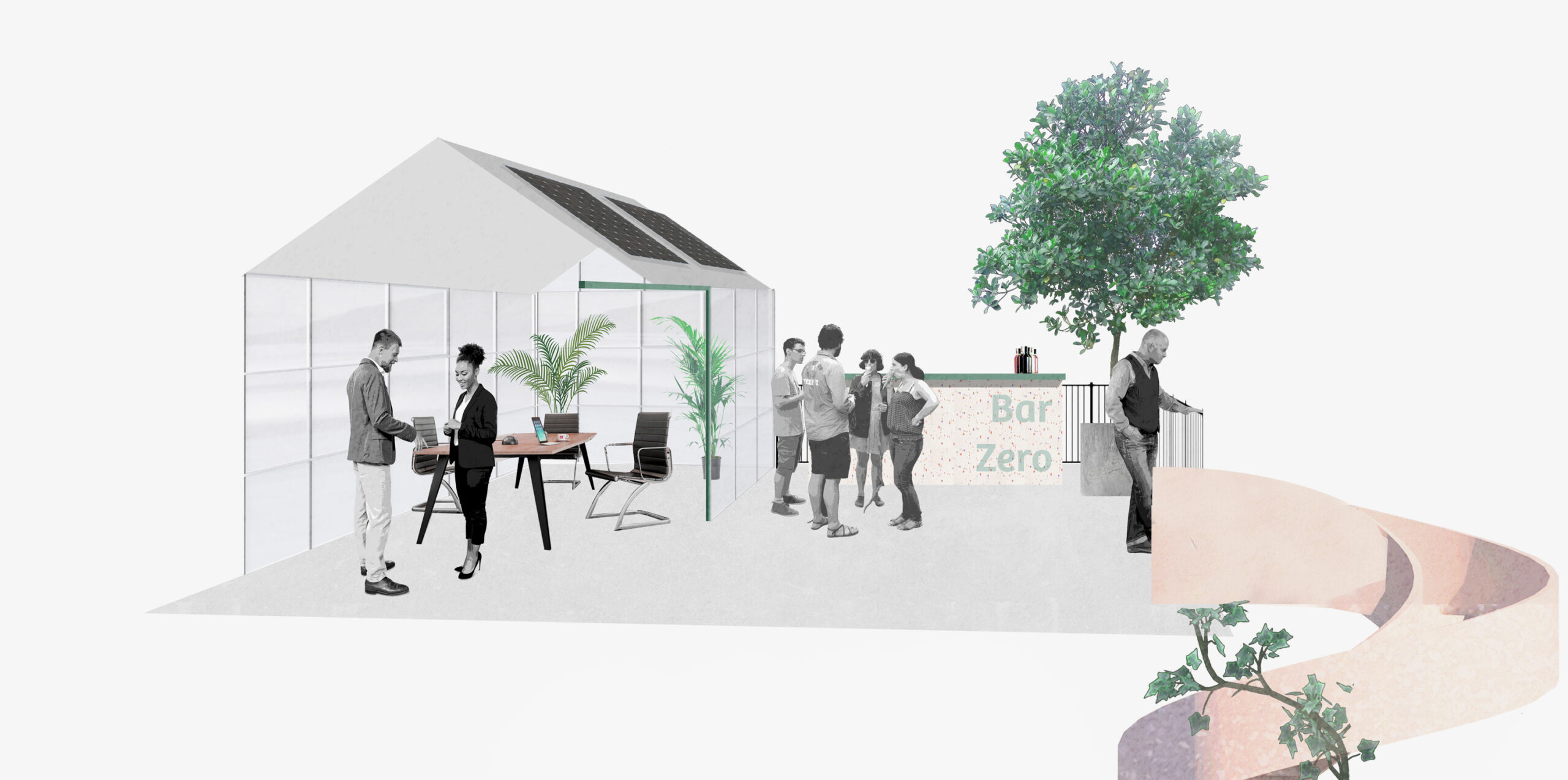 When it comes to saving embodied carbon (used to manufacture, install, and maintain materials), the structure, façade and internal partitions are where the big wins can be made.
The Zero Carbon hotel has an encapsulated timber structure to meet fire regulations and although not as efficient as exposed timber, still performs better than concrete. The sub-structure is concrete containing the maximum cement replacement and recycled reinforcements. And warm, earthy, natural terracotta clads the façade.
The structural frame and slab, façade, partitioning systems are all constructed offsite and modular construction utilised for shower room pods and plant riser modules, which means faster on-site construction reduced site waste, noise, and dust.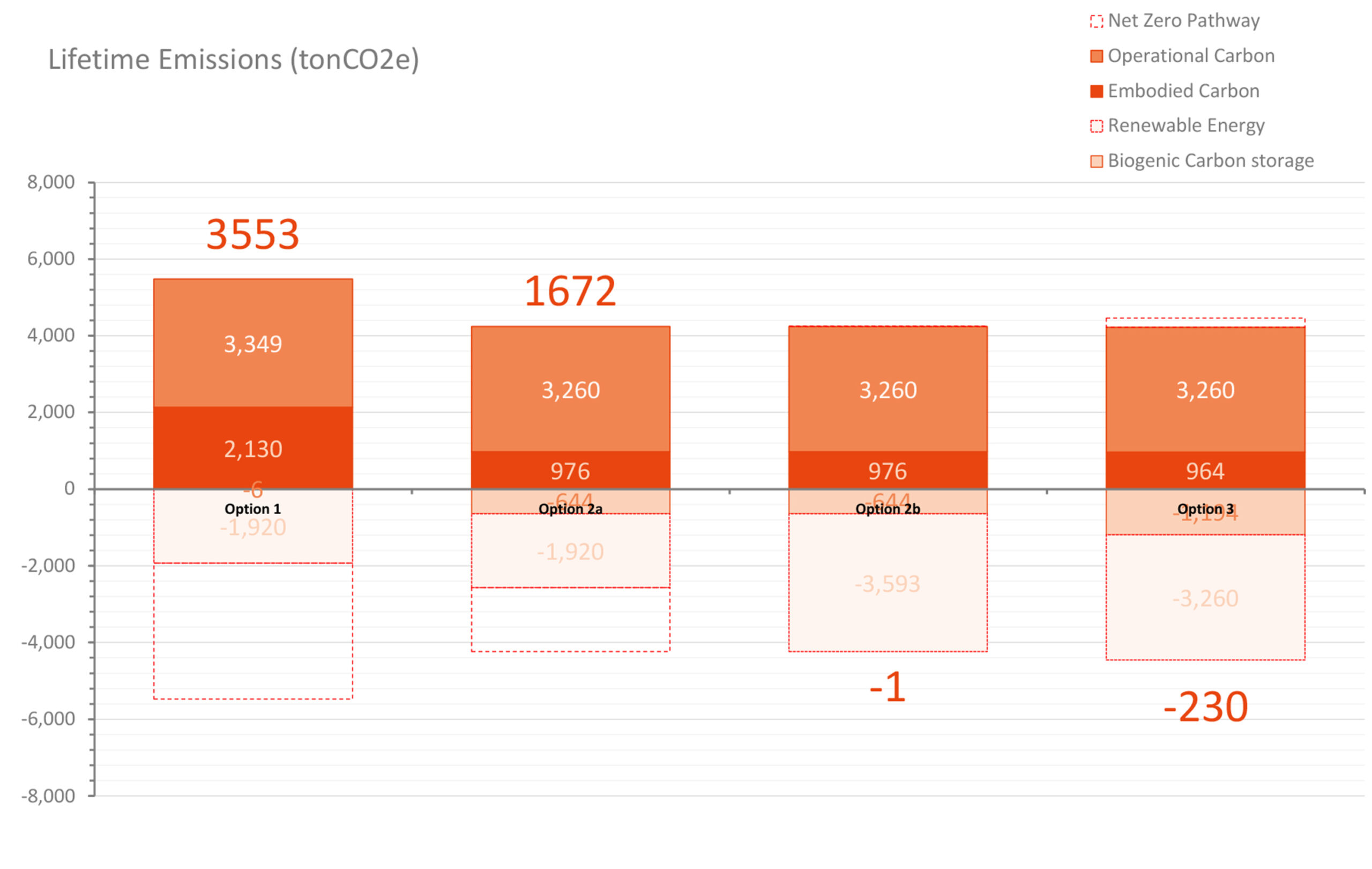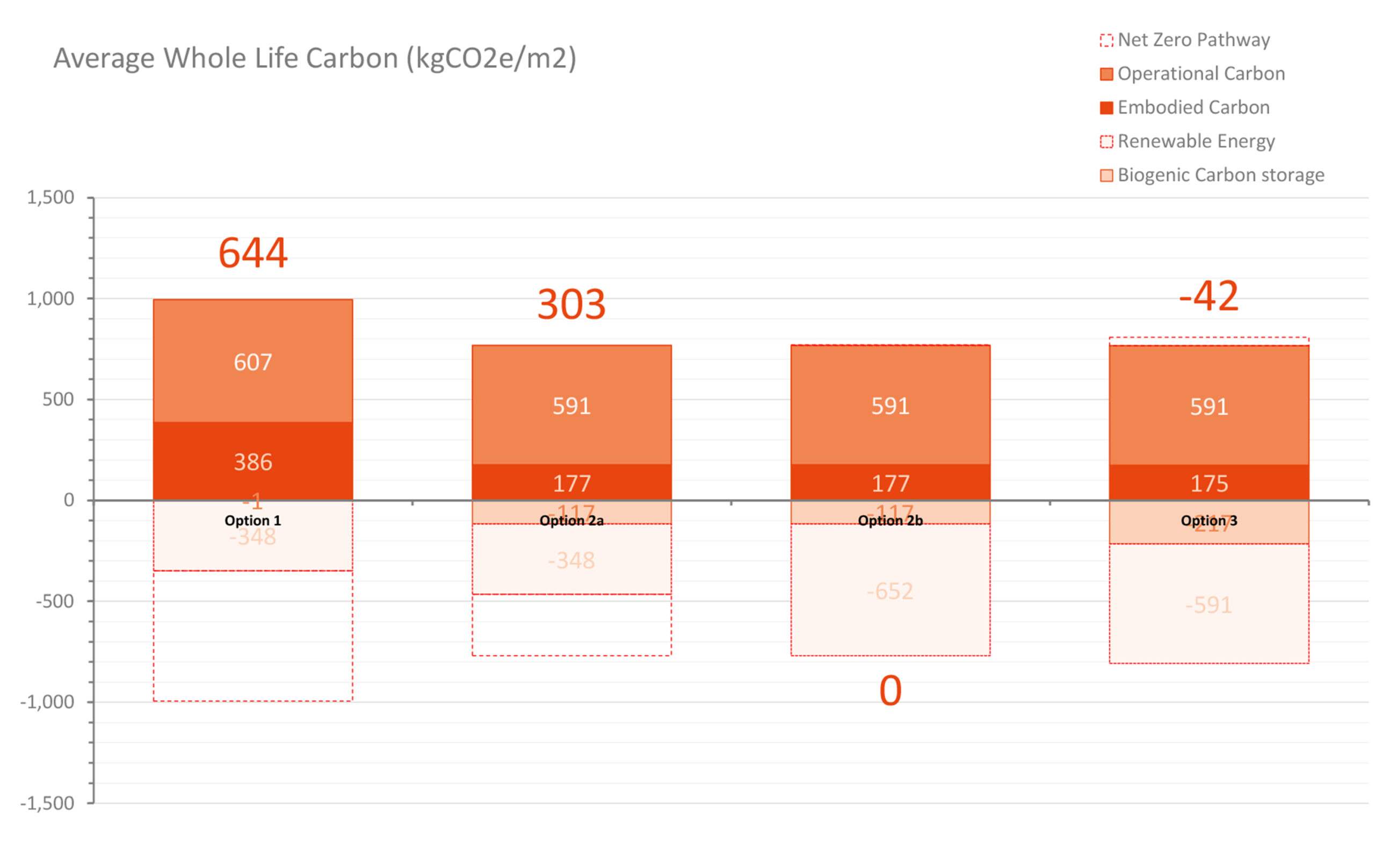 The entrance foyer and communal areas feature exposed timber framing and a terrazzo floor made from recycled aggregates sourced locally, and exposed clay block, which adds warmth and texture. Guests are welcomed at an attractive recycled plastic reception desk.
Wood-fibre panels created from a waste product absorb the sound and a rammed earth wall surrounds the energy storage water tank, creating an artistic feature.
Abundant planting includes moss gardens that clean the internal air.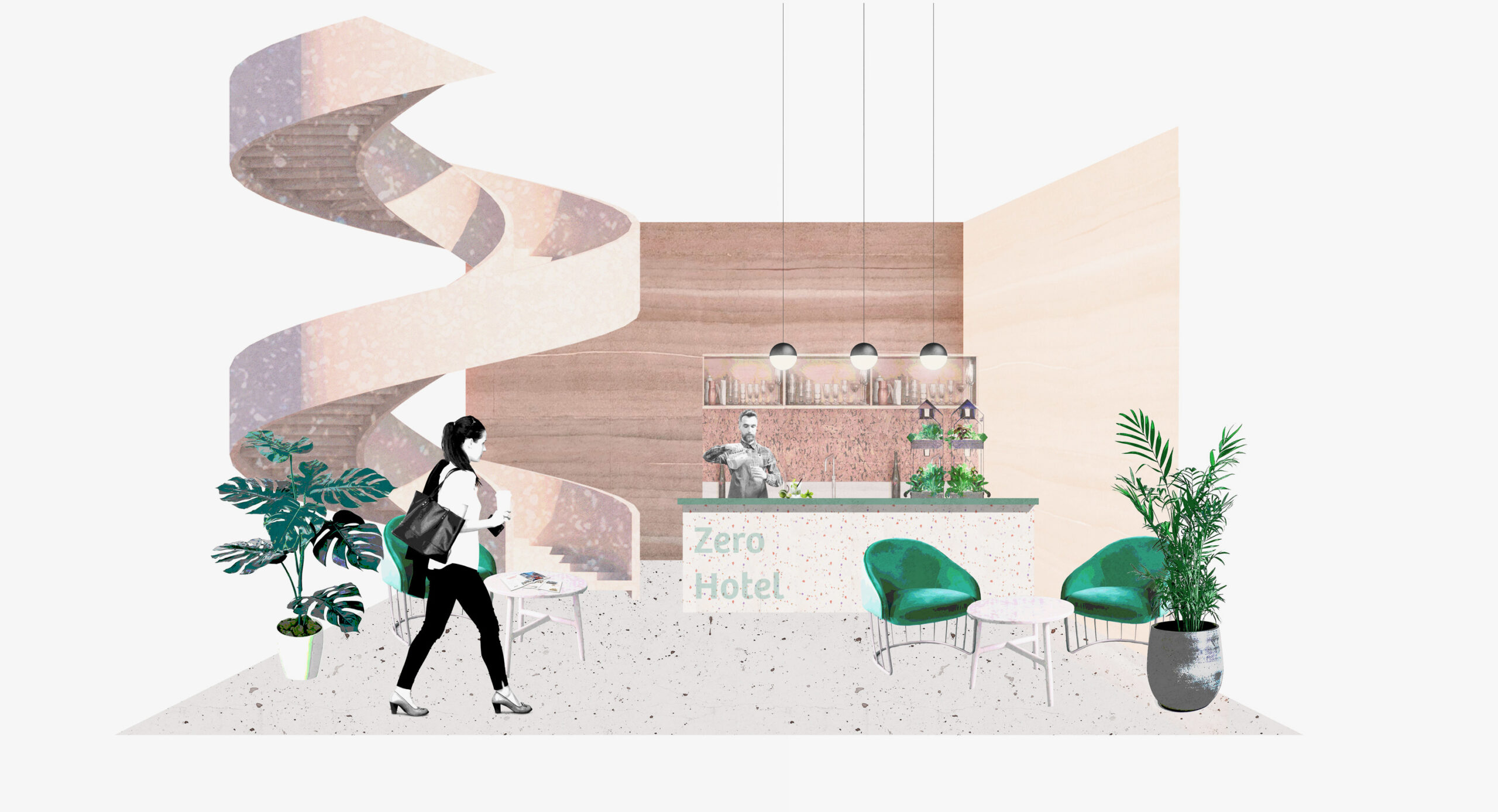 The hotel rooms are a haven of calm, with exposed timber ceilings and floors. Again, clay blocks provide additional warmth and texture. Translucent glazing provides daylight to the ceramic tiled shower pod. A recycled plastic basin and sanitary unit provide colour and pattern.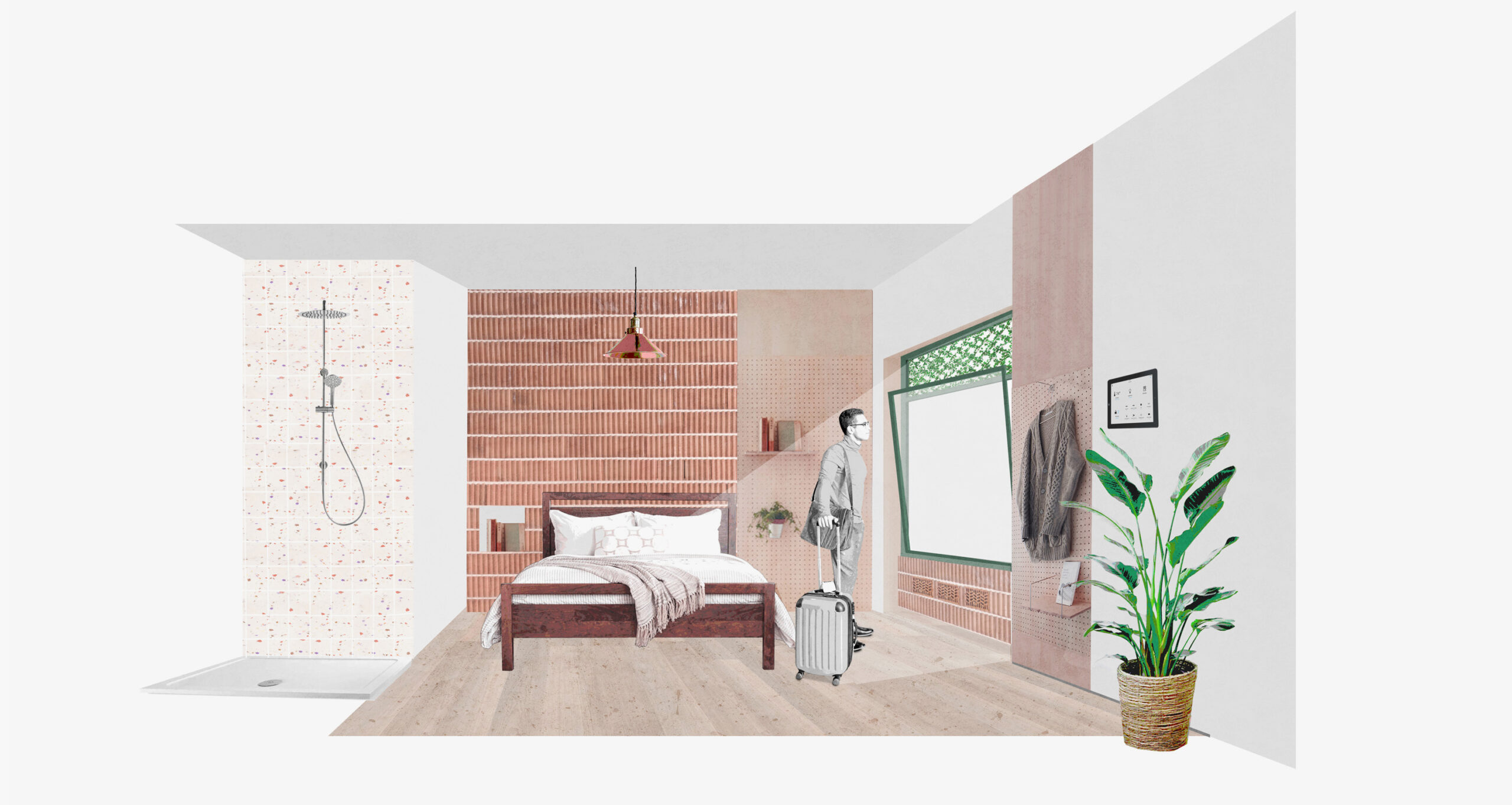 Combining a hotel with workspace ensures that the communal spaces are used more throughout the day, maximising the carbon investment.
The workspace is also comfortable, functional, and low carbon. Through voids and circulation spaces the workspace will be closely linked with the foyer and hotel communal areas, so they are well-used during the day for refreshment and informal meetings.
The material palette combines exposed timber framing with exposed clay block for warmth and texture, and responsibly sourced carpet. Wood-fibre panels created from a waste product absorb noise and furniture is made from recycled materials and fabrics.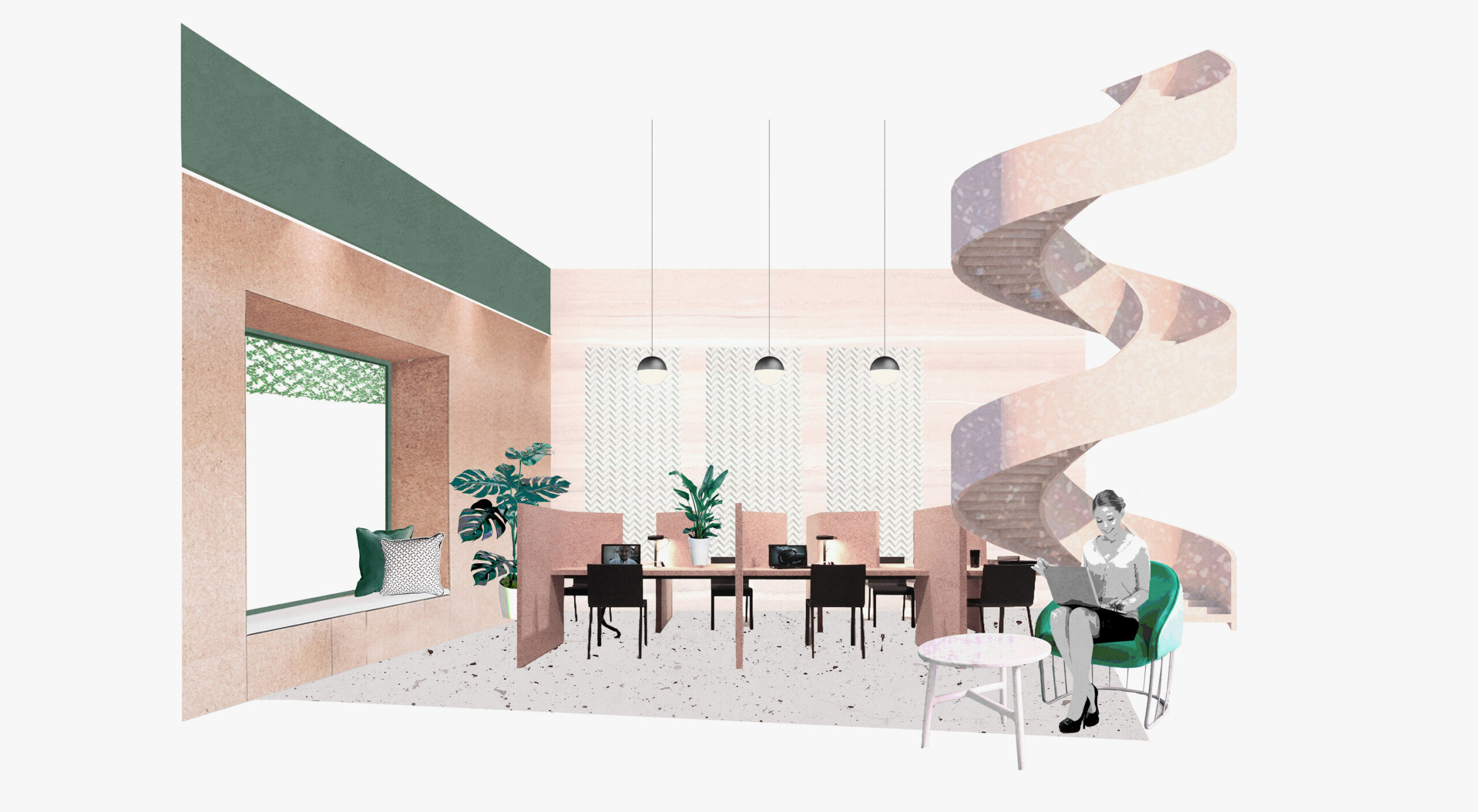 The Net Zero hotel will be all-electric, which eliminates fossil fuel derived energy sources and exploits the benefits of a decarbonising grid over time.
A mixed mode ventilation system uses windows in the guest rooms, offices, and communal areas when the temperature outside isn't too hot or cold. At other times the air is supplied from an efficient central system.
A smart control system ensures that energy is used only when necessary: smart room controls are linked to the reception and lifts; openable vents are controlled automatically. The use of control systems, panels, and phone apps to communicate with hotel guests and workspace users is critical in reducing energy use.
Project name: Net Zero Carbon Hotel
Location: UK
Service: Sustainable design
Scope: Architecture
Clients: Castleforge
Status: Live
Structural and MEP engineering, Fire advice : Arup