Enfield Construction Skills Academy
True regeneration in Enfield
Creating skills and pathways to sustainable employment for Enfield's community
Sitting on the southern boundary of the Meridian One site – part of Enfield's largest regeneration project – the Skills Academy aims to pave the way for hundreds of training opportunities for local people.
Partnering with the council, Countryside Partnerships planned for this major new skills and training hub to empower Enfield's next generation with skills, knowledge, and opportunities.
People looking to pursue a career in construction are offered the opportunity to 'learn on the job' throughout the project's duration, which includes learning about sustainable construction methods and retrofitting buildings to higher energy insulation standards.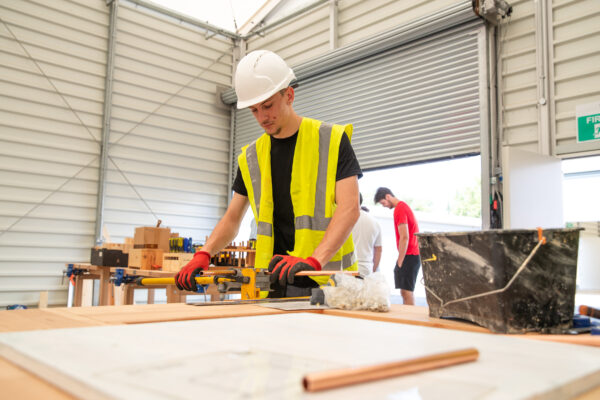 The idea for a construction skills academy emerged from a collaborative process between Enfield Council, Vistry Partnerships and ourselves at Hawkins\Brown. It is central to our long-term vision to embody social value within phase 1 of Meridian Water where we are also working with HTA Design on the wider masterplan.
Enfield has a history of its own – the building's design reflects the site's former industrial heritage, with pitched roofs and the use of timber and corrugated steel.
Totalling 948 sqm, the Skills Academy features a reception area, canteen, offices, classrooms, workshops and an external area for outside training exercises.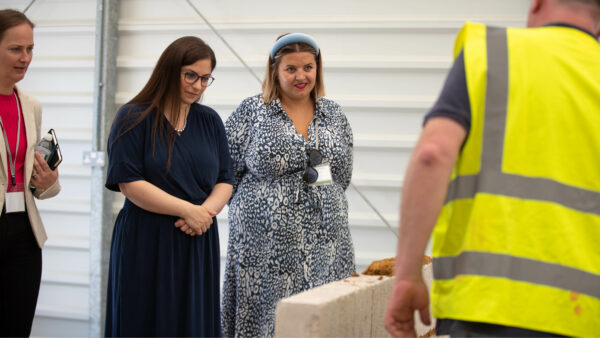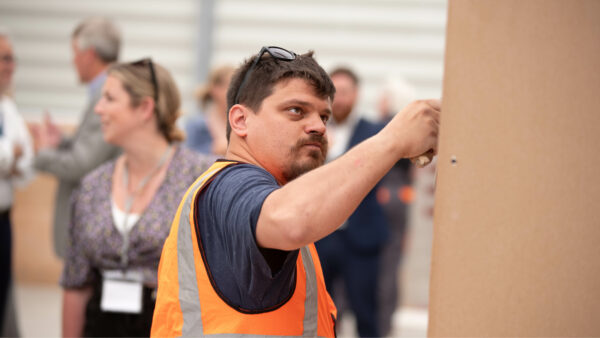 The visitor centre, located within the building, can be used by local schools to deliver career advice, help improve perceptions of the construction industry to improve the diversity of the sector and attract currently underrepresented groups.
The academy aims to train around 500 people per year enabling local people to develop skills to access good quality work.
Not only are we working with Enfield Council to build new homes and breathe new life into a redundant area of land, we're also delivering on-the-ground skills and training opportunities for the local community, meaning many more people can benefit from the wider regeneration.
Project name: Enfield Construction Skills Academy
Location: Enfield, London UK
Value: < £20M
Scope: Architecture
Clients: Countryside Partnerships, Enfield Council, Capital City College Group
Status: Live
Completion date: 2023
Planning Consultant: CBRE
MEP / Sustainability Consultants: Sweco
Civils and Structural Engineers: Walsh
HTA: Landscape Architect