Elevate Quarter
Reconnecting science with nature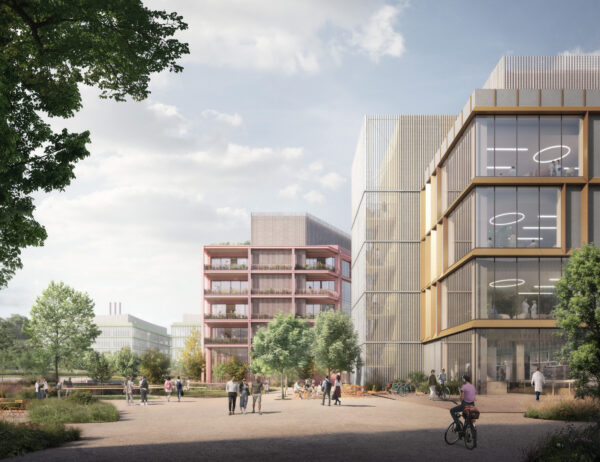 The 15-building campus builds on Stevenage's reputation as a leading life-sciences and pharmaceutical hub, providing a new breed of research and technology facilities next to GSK's established Global R&D facility, Stevenage Bioscience Catalyst and UK's Cell and Gene Therapy Catapult.
We want to demystify science and make it more accessible to everyone, blurring the boundaries between science and nature. On behalf of UBS Asset Management and Reef Group, we designed a campus around a central green space to encourage visitors to come in and explore.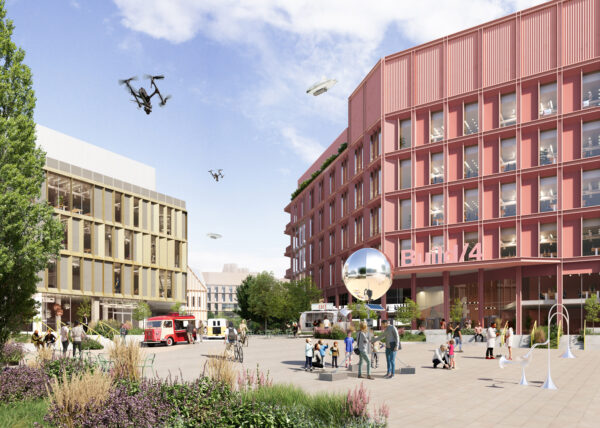 Social collisions are the bedrock of innovation. These encounters will be stimulated by shared places of exchange, both within buildings and outdoors.
The buildings will offer a variety of spaces including R&D labs and offices, GMP manufacturing facilities and flexible lab buildings alongside training, innovation and collaboration spaces. Both employees and visitors can enjoy restaurants, cafes, and leisure facilities.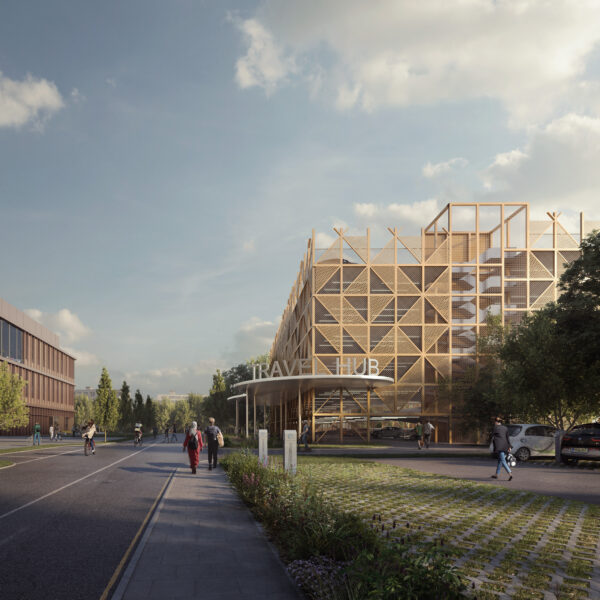 Our proposals provide flexible and adaptable buildings that promote active lifestyles, collaborative working and flexibility for occupiers to grow from early-stage through to commercialisation without having to relocate. This is a seriously compelling offer when spaces for bio-tech companies are in short supply. The new cluster will attract the best in class occupiers given its location, connectivity and access to affordable housing.
Biodiversity and growth will be accelerated across the campus through a radical landscape of new green and blue infrastructure. The science spaces will similarly allow 'room to grow' – for tenants of different sizes, who are able to scale up within a diverse ecosystem of spaces.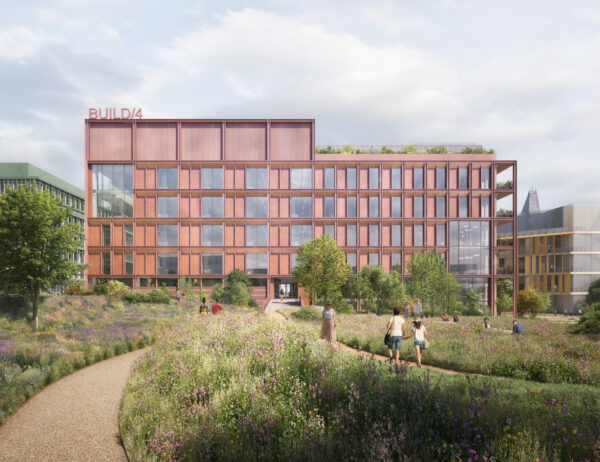 Conventional science parks can be repetitive and dull; ours will colourful, vibrant and  different. It will offer buildings with personality, underpinned by environmental and technical principles. The buildings will be low carbon and energy efficient, responding to the changing needs of tenants and providing climate resilience; utilising circular economy principles for maximum material efficiency and minimum waste of precious resources.
Connections between the campus, the town and its people will be further strengthened by excellent infrastructure and facilities, that will make taking public transport, walking, e-scooters and cycling a pleasure.
We have designed car parking places that are capable of being repurposed or disassembled and re-used, allowing the campus to adapt over time.
Project name: Elevate Quarter
Location: Stevenage, UK
Service: Sustainable design
Value: > £100M
Scope: Architecture, Masterplanning
Clients: UBS Asset Management, Reef Group
Status: Live
Planning consultant: Savills
Cost consultant: Gardiner & Theobald
Landscape architect: Exterior Architecture
Structural & civil engineering: Curtins
Building services (MEP) & sustainability: KJ Tait
Transport consultant: Paul Mew Associates
Acoustics, vertical transportation, utilities: Hoare Lea
Lighting consultant: FPOV
BREEAM assessor: Sustainably Built
Fire engineer: Affinity
Air quality consultant: Dust Scan AQ
Acoustics consultant: Sandy Brown
Visualisation: Secchi Smith
Visualisation: Danny Dimbleby