What is life really like in a sustainable neighbourhood?
Head of Sustainability Louisa Bowles went to find out.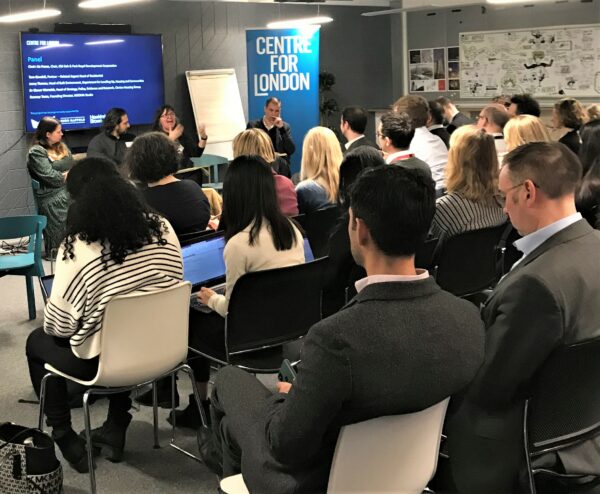 On January 24, the Centre for London brought together a panel of government advisors, social housing providers, developers, and designers to explore learnings from an innovative pilot Post Occupancy Evaluation (POE) at Chobham Manor in the Queen Elizabeth Olympic Park.
The POE was commissioned by the London Legacy Development Corporation (LLDC) and developed by an interdisciplinary consultant team led by Buro Happold, with Hawkins\Brown leading on resident engagement and SOAP Retrofit undertaking utility monitoring. The full report was published in October 2022, with the aim of helping other developers, as well as the LLDC, to understand what worked and what didn't.
A lack of robust management and maintenance processes prior to residents moving in was discussed. The panel noted that the level of negativity associated with poor resident experience can often linger far longer than the original problems took to resolve. All housing providers can build trust from the point of interest or sale both in regards effective support from day one of occupation, quick resolution of issues or building snags and long-term maintenance of community assets and landscaping.
While the LLDC has a long-term role in the management of their homes, some housing providers do not have a role post-occupation. Build to Rent was raised as a possible solution, as providing long term occupant satisfaction is essential to the commercial viability of the scheme, as well as being mandated by planning or simply the right thing to do.
LLDC noted there had been difficulties agreeing the right tenants for the small elements of retail or commercial space provided, an experience echoed by panellists. Some said they gave the space away or charged very little rent, as having it occupied offered greater benefits than commercial.  Others said this opened a wider conversation about the type of community assets that might flourish in low or zero costs spaces.
A further discussion was held on the actions that can be taken afterwards. While there is always a risk with POE that issues raised can't be fully resolved, it was agreed that this was not a reason to hold back. Lessons learnt which related to fundamental design concepts should be weighted more heavily in the next design cycle – something that is certainly possible at the LLDC where schemes are constantly evolving.
While the LLDC were honest and open in their analysis of the POE results and issues raised, there were also many positives. Eight out of 10 people (78%) said they were 'fairly' or 'very' satisfied with the neighborhood and almost three quarters (73%) recognised the sense of community that already exists, with many people active in residents' groups.
The LLDC are to be applauded for their efforts to not only fulfil the planning condition for Post Occupancy Evaluation (POE) Chobham Manner but also to turn it into an opportunity for the development of a blueprint for assessing technical performance, social cohesion, and the impact of design at all scales of the development.
Presentation
Peter Maxwell, Director of Design, London Legacy Development Corporation
Panel
Chair: Liz Peace, Chair, Old Oak & Park Royal Development Corporation (OPDC)
Jenny Thomas, Head of Built Environment, Department for Levelling Up, Housing & Communities
Ramsey Yassa, Founding director NOOMA Studio
Dr Elanor Warwick, Head of Strategy, Policy, Evidence and Research, Clarion Housing Group
Tom Goodall, Partner & Head of Residential, Related Argent