Vision for the new Earls Court revealed
The masterplan by Hawkins\Brown and Studio Egret West includes thousands of homes, an exciting mix of work and cultural spaces and acres of green space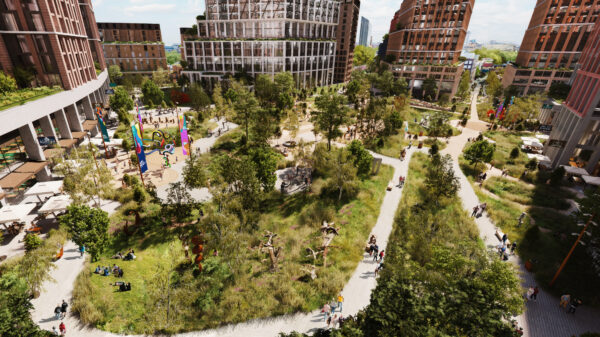 Proposals for the redevelopment of the former Earls Court Exhibition Centres in West London include delivering 4,500 new homes on the reconfigured 40 acre site, which straddles the boroughs of Kensington & Chelsea and Hammersmith & Fulham.
The scheme is being developed by The Earls Court Development Company (ECDC), a joint venture between Delancey and Transport for London. Only about 40 per cent of the site will be built on, split 60:40 between residential and other uses, in line with the local community's number one wish for more green open spaces.
Hawkins\Brown founding partner Roger Hawkins says: "We see Earls Court as an amazing opportunity to offer a rich and diverse mix of accommodation and a variety of open spaces – from kids' play areas and sports pitches, to parks and allotments. The plan is to cluster higher buildings in the centre of the site, and to create wonderful open space around them.  At the edges, there will be more traditional mansion blocks, helping to stitch the new development into the townscape that already exists."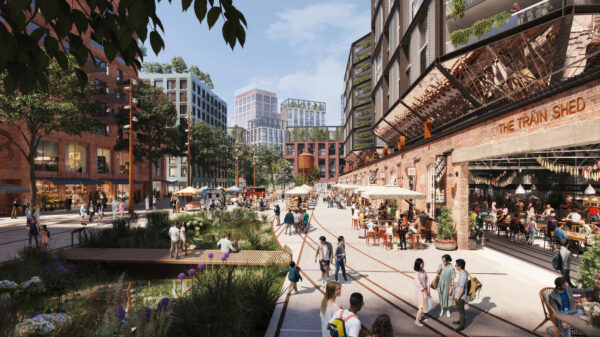 The design team for the development was finalised following competitions last summer.
Architects Sheppard Robson, Serie Architects and dRMM will be delivering the first phase of the project on the Hammersmith & Fulham side of the site.
ACME is designing a signature office building on Warwick Road in Kensington & Chelsea. Haworth Tompkins and Maccreanor Lavington are collaborating to bring forward the first homes in Kensington & Chelsea as well as a "significant cultural offer" at the heart of the site. SLA is leading on landscape work for the project.
There will be a a new flexible venue suitable for theatre, music, exhibitions and events and new gallery spaces. An existing train shed to the north of the site will be repurposed for cultural events, markets and food offers.
ECDC chief executive officer Rob Heasman said the aspiration was for a "more inclusive and equitable piece of city with homes for all incomes and stages of life, and thousands of jobs from training to start up to scale up".
"We want to create a place which reinstates 'wonder' in this incredible part of London," he said.
"We have an ambition to be a global exemplar of responsible, sustainable development, putting people's health and well-being first."
ECDC also wants to deliver the UK's first large-scale zero-carbon energy-sharing network, 15,000 jobs will be created with the development becoming a "research and development hub for green tech".
A planning application for the 1200-home first phase of development is expected to be submitted by the end of this year. Work on the park and the site's east west connections will commence in 2025.