Planning approved for major regeneration in Worthing town centre
Regeneration of Union Place to make a significant contribution to the long-term economic sustainability of Worthing post-COVID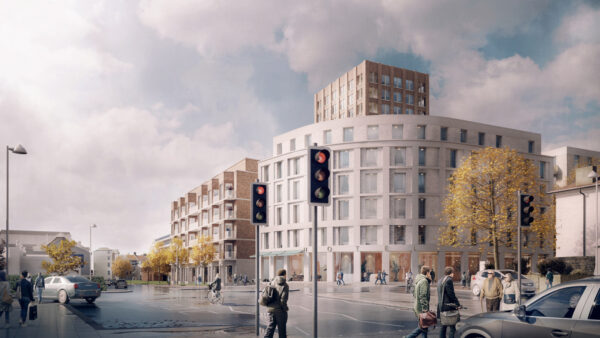 Following a planning approval decision in early November, Hawkins\Brown is to provide 169 new homes, 670 sqm of flexible commercial space, a 90 bed hotel and an expanded cinema in the heart of Worthing town centre.
The 1.1 hectare site – disused for over a decade and incorporating the former police station – will also feature a new play area, enhanced public realm, and increased car parking (245 new spaces, along with abundant EV charging points and 184 cycle spaces).
Comprising a series of blocks of between four to six storeys, the development will feature a 14-storey tower at its heart and is part of the Council's 'And Then…' project, seeking to create a vibrant mix of high-quality housing, cultural and commercial premises in the town centre post-COVID.
Find out more information on the scheme.
Regenerating underused and underdeveloped land in our town and city centres has always been key to maintaining thriving communities, but it's now more important than ever as Britain looks to navigate an economic recovery from the impact of COVID-19. This is a key example of the kind of project that local authorities should champion in order to generate strong growth across our regional hubs.