Manchester International Festival begins with Festival Square designed by Hawkins\Brown
With a new location and new challenges to overcome, we have re-imagined the space for a new normal, while retaining a feeling of inclusivity, curiosity and discovery.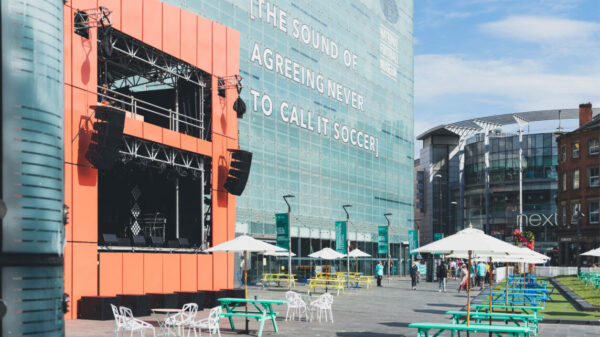 Celebrating the Real
The theme for this year's Festival Square is 'Celebrating the Real': creating a safe, joyful place for people to begin to return to the interactions and experiences of arts and culture that have been lost during the pandemic. A space away from screens, video calls and the same four walls, to enjoy each other's company surrounded by cutting edge performance, artworks and food and drink, in a relaxed outdoor setting in the heart of the city.
Enveloped by sounds, trees and buildings, everything in the square is heightened to create an immersive space in which to escape. Hawkins\Brown has drawn upon the unique qualities and open grassed areas of Festival Square's new home Cathedral Gardens and allowed them to shape a whole new experience. The stages – a pair of bold, sculptural monoliths designed with Lucid Creates – command the site and pump colour, sights and sounds right across the square.
Safe and Inviting
One of the important requirements for this year's Festival Square has been the need to create a safe and inviting environment that allows for social distancing but without feeling constrained. Big, bold gestures and generous splashes of brash, bright colours makes the site easy to navigate while adding a feeling of dynamism and vibrancy. The team worked with MIF to develop a vivid colour palette that is layered across the site, creating a new identity for the heart of the 2021 Festival.
Recycling and Re-use
Sustainability has also been a key consideration for Festival Square, with an emphasis on reducing waste and improving the whole experience for festival goers. Alongside strong recycling initiatives for onsite operations, structures have been built from fully demountable systems, with decorative cladding elements designed to be removed and re-used on future installations. And the power supply has been shared with the National Football Museum, which means no noisy, polluting, diesel generators on site.
Manchester International Festival runs 1-18th July.