From LA to Glasgow – Hawkins\Brown's cycle for climate change
To mark what would have been the UN Climate Change Conference (COP26), we collectively cycled over 10,000 km from LA to Glasgow – and back again.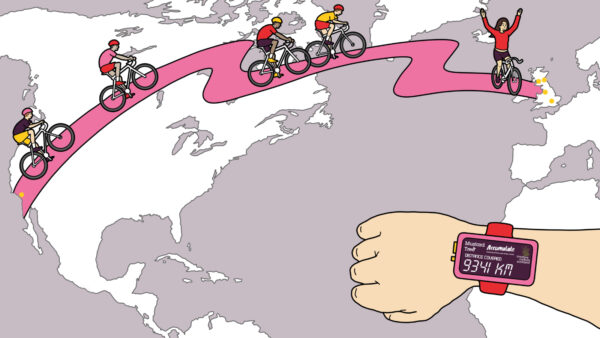 Like Glastonbury, the Olympics and much else in 2020, COP26 was cancelled. Originally scheduled for 9th November in Glasgow, the UN Climate Change Conference will now take place in November 2021 due to COVID-19.
Unfortunately however, the climate crisis is not postponed. It continues to affect the way we live and work, and so – despite the conference's cancellation – we wanted to continue to promote sustainable travel and support three outstanding charities: Accumulate, Creative Carbon Scotland and Mustard Tree.
Over 40 members of Hawkins\Brown staff therefore cycled the equivalent of the distance from our Los Angeles studio – via our studios in London, Manchester and Edinburgh – to Glasgow. A distance of 9,340 km (we measured it).
Our collective miles were logged through commutes to work, weekend rides and turbo trainers in the virtual world.
Not only did we meet our target in just 19 days, we decided to make a new challenge to see how much more money we could raise on the 'return leg' back to LA.
Raising over £2,000 by the end, the donations kept us pedalling the 18,600km+ distance – so thank you to all those who donated!