BSI Certification Award
In March of this year Hawkins\Brown was officially awarded its BSI certification award for the delivery of BIM projects in accordance with the most recent internationally recognised standard; ISO 19650.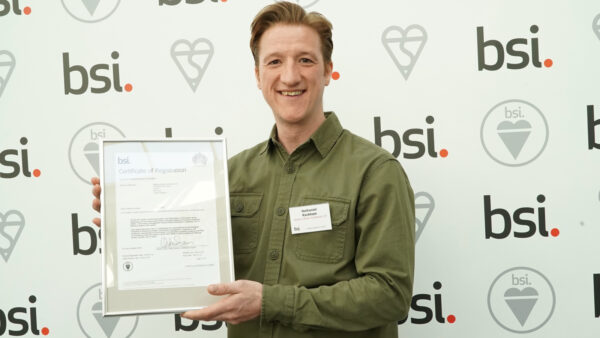 This BSI certification award has been achieved with the help of our long term consultant partners Infinite BIM who have helped us throughout our BIM journey over the last 5 years and are also a member of the Associate Consultant Programme with the BSI.
Following on from our successful certification as a Tier 1 consultant in 2018 (in accordance with PAS1192-2) we immediately began to develop our ISO 19650 standards, methods and procedures allowing us to demonstrate to our clients our continued investment in BIM working practices.
The certification award noted several 'best in practice' standards which we are immensely proud of and provides further assurances to our clients that we have all the necessary elements in place to deliver projects to the highest quality. With only a handful of Architectural practices in the UK having attained this certification as a Tier 1 consultant we feel it really sets us apart from our competitors.
Hawkins\Brown chose BIM certification through the BSI as they are among the most respected and reputable management certification bodies in the world and are accredited by around 20 local and international bodies. Accreditation through the BSI means that we have been assessed against an internationally recognized standard and that we operate to the highest levels of quality and service which we hope clients recognise and value.
This is a fantastic achievement for Nathaniel and the team at Hawkins\Brown and is testament to the proactive and pragmatic approach the practice demonstrates towards BIM. Focusing on people, process and technology, the systems being implemented ensure that Hawkins\Brown continue to deliver BIM projects of the highest quality and maintain their position at the forefront of the industry. We have a successful longstanding relationship with Hawkins\Brown which has proven to be an enjoyable and rewarding experience working on an array of fantastic projects. We look forward to supporting Nathaniel and the team as their BIM journey continues.
Over the next 12 months Nathaniel Rackham (BIM Manager) will be leading a series of workshops, CPD's and training sessions outlining the new standard to all Hawkins\Brown personnel ensuring that the latest standards are fully understood allowing us to advise clients, stakeholders and design team members where appropriate.
As this is an International standard we have also extended this to our US based office in Los Angeles where we have successfully won several new BIM projects. ISO 19650 in the US is yet to really take off however we hope that with our knowledge and enthusiasm we can use our presence to help accelerate this standard and drive project efficiency. Our most recent LA project to kick-off (Seward Street) has been done so with our US biased ISO 19650 BXP template which both client and design team have responded well to giving us positive feedback for future developments.
The next 12 months offer an exciting opportunity for Hawkins\Brown to further define our ISO 19650 suite of documents and help guide clients and contractors through projects and we look forward to yet more continued collaboration with Infinite BIM.
Read more about the journey on Infinite BIM's website.